Lift Station Sealing in Minnesota & North Dakota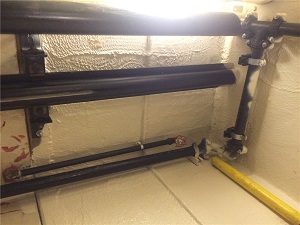 Lift station sealing can help prevent water damage and protect mechanical parts.
Innovative Foundation Supportworks provides expert polyurethane coating services for a variety of purposes, including lift station sealing. Our high-performance coating will protect mechanical and structural materials from water damage and corrosion, while also helping to control odor issues.
If you need lift station sealing for your property, call us today to get a consultation and estimate. We offer all our polyurethane coating services in Fargo, Grand Forks, Bismarck, Minneapolis, St. Paul and the nearby areas in Minnesota & North Dakota.
Why lift station sealing is important
Leaks can cause serious damage in a lift station, including rusting mechanical parts and causing electrical shorts. We provide complete lift station sealing that is designed to completely seal off the space to protect the lift station components.
Our proven, effective polyurethane coating provides a watertight seal that also is resistant to corrosion and decay. Once installed, you will have complete protection for the lift station for years to come in a maintenance-free solution.
Our high-performance polyurethane coating
Fast application & cure time: We spray our polyurethane coating in a single application that dries in less than a half hour. No additional treatment is required.
Low permeability: The coating has been proven to withstand water penetration, making it ideal to protect surfaces from corrosion.
Weather resistance: Our coating can handle nearly any climate conditions, and will cure at temperatures as low as -20° F.
Corrosion resistance: Our high performance coating resists nearly all caustic acids, bases & corrosive salt solutions in a wide range of concentrations.
Flexibility: The polyurethane coating is designed to bridge cracks more than an inch across, and will withstand expanding and contraction of substrates.
High-build durability: Our high performance coating can be applied from 20 mils to several inches even on vertical and overheard surfaces without causing sagging or damage.
Meets code requirements: Our high performance coating is UL Classified® in accordance with ANSI/NSF Standard 61, Section 5, Barrier Materials.
Contact us today for quality lift station sealing
If you're interested in lift station sealing for your property, Innovative Foundation Supportworks has the solutions you need. Our high performance coating is a proven, effective option for protecting mechanical and structural materials. Call us today for a free estimate in Fargo, Grand Forks, Bismarck, Minneapolis, St. Paul, Minot, Moorhead, Alexandria, Mandan, Dickinson, Fergus Falls, Jamestown and throughout the surrounding areas.